With the average gas price soaring to $2.08 a liter – a more than 60% increase over last year's average of $1.29 – and the federal government mandating that 100% of new passenger vehicle sales be electric vehicles by 2035, it seems that electric vehicles, or EV, are on the precipice of wider adoption. While that would be welcome news for the energy industry, many Canadians still have range anxiety.  
The emissions reduction plan mandates that EVs make up 20% of light-duty sales by 2026, 60% of sales by 2030 and 100% by 2035. Sales of medium- and heavy-duty electric vehicles must reach 35% by 2030 and 100% by 2040. Transportation is the country's second-largest cause of emissions, ahead of energy production and just behind oil and gas production. The high transportation emissions boosts Canada's per capita emissions to be on par with its southern neighbor, despite only one-sixth of its energy production coming from gas and coal.  
Both the federal government and some provinces are encouraging EV purchases with incentives. The federal plan, called the Incentives for Zero Emission Vehicles Program or iZEV, offers drivers $5,000 in rebates when purchasing a passenger EV for under $55,000 or an electric truck, SUV or van under $60,000. The rebate plan, which began in 2019, will run through 2025. More than 130,000 Canadians and businesses have taken advantage of the incentive.  
Some provinces have sweetened the pot, with Newfoundland and Labrador offering another $2,500; British Columbia and Nova Scotia, $3,000; New Brunswick, Prince Edward Island and Yukon matching the $5,000; and Quebec dwarfing it with $8,000. PEI throws in a free Level 2 charger, although homeowners have to see to the installation themselves.  
However, despite the federal mandate, only 10% of Canadians want a full battery electric vehicle (BEV), and one-in-five of those who have purchased an electric vehicle have gone back to driving an internal combustion engine vehicle, citing the difficulty of finding places to charge their vehicle. This is despite the lifetime costs of an EV being $15,000 less for maintenance than an ICE vehicle, and the average EV only costing between $5 to $12 to fully charge, according to Clean Energy Canada.  
Studies have shown there are not enough chargers for existing demand, with just under 16,000 public chargers available at less than 7,000 stations. The great majority of these are Level 2 chargers, with DC fast chargers available at just 1,200 stations.  
In Budget 2022, the federal government proposed investing $500 million through the Canada Infrastructure Bank and $400 million through the Zero Emission Vehicles Infrastructure Program to build 50,000 charging stations across the country to address charging anxiety. Provinces also are working to improve their charging networks, and Quebec is again in the lead, with 45% of the country's total public charging stations, followed by Ontario at 26% and B.C. at 17%. In 2021, public funds helped install nearly 2,500 public access chargers at more than 700 stations, an increase of 19% over 2020.  
Because Canada has only about 0.06 publicly available chargers for each EV on the road – well below the estimated one charger per every 20 EVs by 2025 – it is ranked eighth in readiness for EVs in the world's 10 largest auto markets.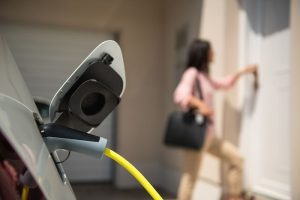 The reality is that most EV owners will be charging at home for the time being, because public chargers can't match the convenience of topping up overnight in the homeowner's own garage. However, purchasing and installing a Level 2 charger in their homes can be a difficult path to navigate on their own, and they may turn to their energy provider for guidance. Once it is installed, there is maintenance to consider – in a HomeServe study, 74% of prospective EV owners worry that their charger would malfunction, and 97% of those who have a charger at home would be interested in an offer from their energy provider to provide the installation of an EV charger.   
How will your utility answer customers' questions about installing and maintaining a Level 2 charger in their homes? A partnership with HomeServe could provide your utility with those answers. Find out more about how we can help your customers navigate installing and maintaining their EV chargers by contacting us.